Airedale Terrier Club of Canada (ATCC)
Announcements
Check here for all the latest news and reports from and concerning the ATCC and its members, human and canine.
May, 2008

September, 2007

August, 2007

February, 2007

December, 2006

November, 2006

September, 2006

August, 2006

July, 2006

June, 2006

November, 2005

September, 2005

August, 2005

May, 2005

February, 2005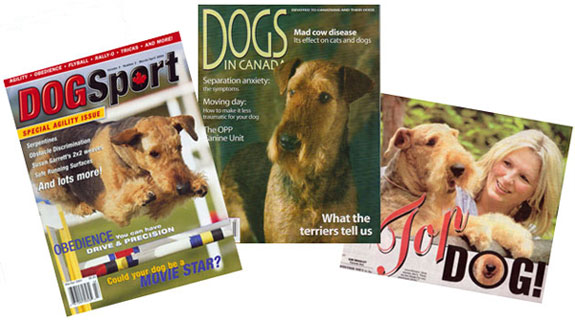 Has your Airedale Terrier made a splash in the media (just like Sage the agility star,
Becky the Dogs in Canada cover girl, as photographed by John Ross, or Jordan, owned by
Detective-Constable Pam Bruce, who appeared in the Toronto Sun)? If so, let us know if we
can feature your story on the ATCC Web site! Contact us with the details at
info@airedaleterrier.ca.
What's New | About the ATCC | About the Airedale Terrier | News and Events
Support the ATCC | Gallery | Learn More About … | Contact Us | Home
Photo Credits | Legal/Disclaimers | Privacy | Site Map
Questions? E-mail info@airedaleterrier.ca
Copyright ©2011 Airedale Terrier Club of Canada