Airedale Terrier Club of Canada (ATCC)
Montgomery Revisited Party (February, 2005)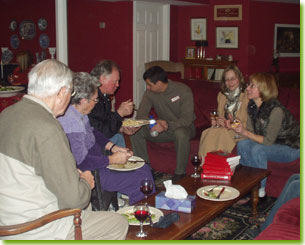 Everyone enjoyed a lovely lunch at
the Montgomery Revisited party
Photo courtesy of Elaine Zemaitis
by Margaret Saltzmann
February 19th … the snow was flying in Burlington, Ontario but we were all toasty warm at Elaine and Saul Zemaitis' home as we viewed the 2004 Montgomery County Kennel Club video of the Airedale Terrier. What a fantastic opportunity to view all the Airedales entered from across the United States and Canadam to look at the breed from an objective point of view and to see ourselves as the judge sees us when we are in the ring.
Our love of Airedales brought us together to see the King of Terriers in all his glory and to share with one another that love and our commitment to the breed.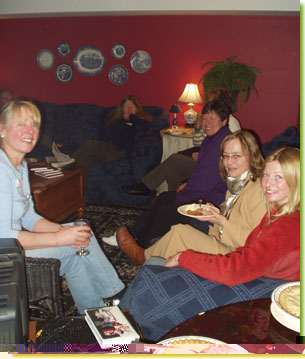 The party was a nice mix of
newcomers and long-time members
Photo courtesy of Elaine Zemaitis
Newcomers joining us were Kate Mullin, Ewa Murphy, and Benny, Grazynne, and Emily Benaisse. They were welcomed by Elaine and Saul, along with long-time ATCC members Marg and Ken MacLaren, and Mary El and Ron Dittner.
It was a wonderful mix of experienced exhibitors who have been there, done that … those that are currently in the ring, along with those dreaming of the moment they will receive their first blue ribbon.
In keeping with Montgomery tradition, a wonderful luncheon with a splash of wine was served under "the big tent".
For all those who missed the show the, Montgomery County Video 2004 can be reserved by contacting the club librarian, Terry Stiles. Drop us a message at info@airedaleterrier.ca.
What's New | About the ATCC | About the Airedale Terrier | News and Events
Support the ATCC | Gallery | Learn More About … | Contact Us | Home
Photo Credits | Legal/Disclaimers | Privacy | Site Map
Questions? E-mail info@airedaleterrier.ca
Copyright ©2011 Airedale Terrier Club of Canada