Airedale Terrier Club of Canada (ATCC)
Grooming Seminar 2007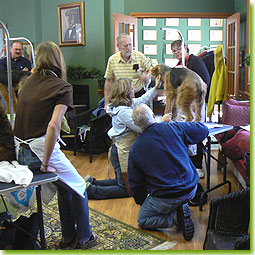 Kelly Wood demonstrates the grooming of furnishings on Penny, owned by Mary Floro-White.



A patient boy waits for his turn.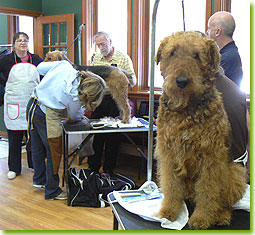 I really wish it was MY turn …


by Elaine Zemaitis
Past President
February 24, 2007
On Saturday February 24th, the hair was flying in Burlington!
Airedalers joined to spend the day grooming their dogs and to learn a few new tricks. Elaine started the morning with a review of the basics. Members discussed the standard and reviewed grooming tools and grooming techniques. Saul gave a demonstration on cutting toenails and using an electric grinder for filing the nails and finishing the pedicure.
Sarah Kee organized the kitchen and served the class chicken pasta with salad and homemade bread. Everyone enjoyed a glass of wine and a well rewarded lunch break.
Roy Aitchison chaired a mini General Meeting and five new members were approved. Two of the new members were in attendance, Patricia Bowers and Kate Mullin. It was a wonderful way to meet our new members and we look forward to seeing them in the future!
As groomers progressed through the day, everyone learned some new information and many left with a new and improved groomed area on their dog. Randy McCartney perfected the grooming of his dog's feet and Bruce Struthers left with his dog half finished!
Kelly Wood demonstrated the perfect furnishing on Mary Floro-White's dog Penny. Eyebrows were demonstrated on Karen Green's young pup Roman.
When we were too tired to pull any more hair, Sarah served us fresh warm slices of pie and coffee.
Thanks to everyone for making the day WONDERFUL!
We've had fun grooming seminars in the past. Check out this previous report.
And we have fun all year round, with all sorts of events. Check out the ATCC Events Calendar!
| | |
| --- | --- |
| The group watches as a perfect furnishing emerges. | Maybe if I sit here like the perfect gentleman somebody will notice me. |
Photos by Sarah Kee


What's New | About the ATCC | About the Airedale Terrier | News and Events
Support the ATCC | Gallery | Learn More About … | Contact Us | Home
Photo Credits | Legal/Disclaimers | Privacy | Site Map
Questions? E-mail info@airedaleterrier.ca
Copyright ©2011 Airedale Terrier Club of Canada