Airedale Terrier Club of Canada (ATCC)
Report on Ontario Fun Day 2007
September 16, 2007

by Elaine Zemaitis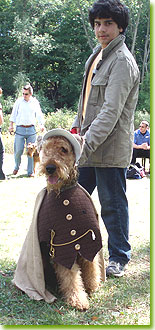 The most nattily attired Airedale attendee makes his entrance


On Sunday September 16th, 2007, Ontario Airedalers joined to celebrate our annual Fun Day.
Kim Chagon and her daughter Laura arrived bright and early to welcome Airedalers. They were kept busy with 89 Airedalers arriving – we broke the record! In addition, 38 Airedales arrived, ready for fun and games and a chance to meet long time doggie friends and new Airedale friends.
We welcomed old faces and new. Some members were enjoying their 12th Annual Fun Day, while some new enthusiasts were enjoying their very first Fun Day. Barbara Durance and her mother Doreen joined us from AireCanada rescue and brought the most wonderful items for the auction table. Airedale Terrier Club of Canada past presidents Ken MacLaren and Ron Ditner joined us for the day, and Ron got to meet three of his Airedale "grandchildren".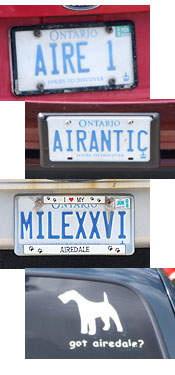 It was clear from the parking lot who was taking over the park!


Some of the Airedales enjoyed family reunions. The youngest Airedale was the 3-month-old Luna Ross, who proudly posed for the camera with her father Jay. One-year-old littermates Madison, Bently and Crusty compared their "bad puppy-dog stories" and caught up on family news. Long separated brothers Apollo and Tiger caught up on eight years of being apart. It was wonderful to see Airedale clusters throughout the day.
Animal Communicator Lauren Bode visited with 14 Airedales and their families. Some of the stories our Airedales told her were quite amazing and left owners puzzled about how Lauren could have learned the details of the dog's lives.
One dog told her he fell down the stairs and hurt his tooth (which the owner confirmed had only happened two days earlier). Another dog told her his food had been changed (and the owner confirmed they had changed the food the day before). Some dogs talked about family members and some even talked about ghostly presences. One of my dogs talked about three white haired ladies who "live" in our home! In all, it was an interesting and amusing experience.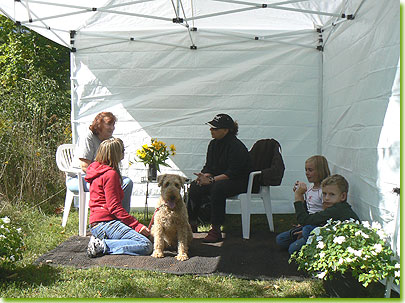 Airedales revealed their innermost secrets to animal communicator Lauren Bode.


For many the highlight of the day was lunch. We had wonderful salads and super desserts. There was a barley salad that I would love to have the recipe for!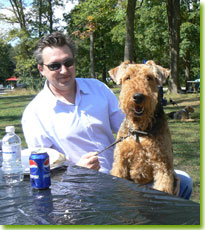 Hey! Where's my hot dog?


Bob Reed and Club President Roy Aitchison barbecued the hotdogs and sausages, while Sarah organized the table. Thank you Bob, Roy and Sarah!
The Airedale Cake decorating contest was won by Pat Morris, who created a wonderful Airedale with a magic ball. How appropriate for our Fun Day with Lauren and her invisible magic ball!
Following lunch we took a group photo. Everyone grabbed their dogs and headed for the hill. The photo is pretty impressive and would have been even more impressive with the addition of another 11 camera buffs that were busy taking pictures. Thanks to ATTC Vice President John Ross for getting the wonderful group shot, which adorns the ATCC home page.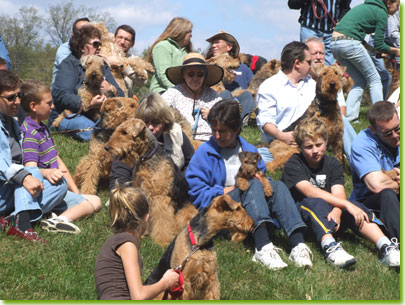 Getting ready for the group shot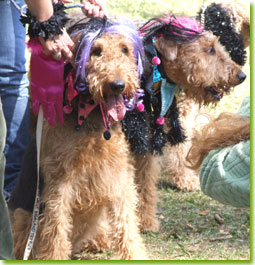 Airedales love to dress up!


Once the photo session was completed, Airedale dress up began. Club member Lory Ross was the contest judge. Best puppy was won by Luna. Best male was won by Airedale Jasper Artinian. Best costume was won by the fairy princess/ballerina Airedale. Sorry – I don't know her name – but if someone could please provide her name, I will be happy to make the correction to this report. Congratulations to the winners and their creative owners for the fabulous costumes!
Airedale games were organized by James Tracy. Happy competitors were pleased to receive Iams prizes. Thank you to Iams for the great prizes and to James for organizing and researching the new games.
Thanks also to Michael Zemaitis and Michael Holubeshen for volunteering their services for the day. The "two Mikes" set up the event, organized the auction table, helped with the wasp problem in their own special way and then cleaned up. Thank you, thank you, THANK YOU!
Thanks also to Pat Morris for selling tickets for the raffle basket. Pat raised $240!
Thank you as well to everyone for their generous donations towards the auction table. We had some lovely items and raised a whopping $479 – another record! Our talks with animal communicator Lauren Bode also raised some club funds – another $90.
Total funds raised for the day after expenses was $619.52!!!!!!!!!!!
Thank you to everyone who made it possible. See you next year!
Photos courtesy of Sarah Kee, Dee Psaila and Michael Zemaitis
What's New | About the ATCC | About the Airedale Terrier | News and Events
Support the ATCC | Gallery | Learn More About … | Contact Us | Home
Photo Credits | Legal/Disclaimers | Privacy | Site Map
Questions? E-mail info@airedaleterrier.ca
Copyright ©2011 Airedale Terrier Club of Canada