Airedale Terrier Club of Canada (ATCC)
Report on Fun Day 2005
by Elaine Zemaitis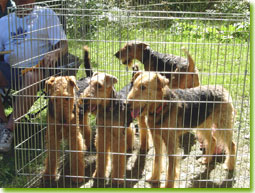 The Debonaire gang gets ready to party!



What happens when 60 Airedale owners and their dogs gather for an afternoon to celebrate the Club's 35th Anniversary? Pandemonium!

As with all Airedale Club of Canada events, there were many hands organizing the day and hosting the event. But this Fun Day was special with an extra twist – we were celebrating the Club's anniversary, so we were really in the party mood! Activities for the day felt like a canine birthday party.

Debbie Klemp got us started with booking the picnic area at Hidden Valley. She must have also made special arrangements with the weather man, because the storm clouds cleared and we enjoyed a cool sunny afternoon. Perfect Airedale weather! Sarah Kee planned the event, handled the RVSPs and co-ordinated the volunteers. Thank you Sarah!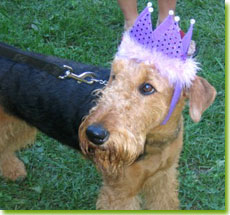 The beautifully bonneted guests begin to arrive.



Wanda, Ron, Rachel and Ryan Purvis organized the set up and set the stage for a great Airedale day. Rachel and Ryan should both win teen volunteer awards. At every moment they were there, helping to dress the mascot, moving tables, putting out tablecloths, setting up exercise pens. A special thank you to the Purvis family!

Julie Rodgers arrived and organized the lunch table. Margaret Saltzmann brought her puppies and set up reception.

Bob Reed arrived with the barbecues and started cooking up a storm. Before we knew it, Julie had the lunch all laid out and we gathered for a wonderful lunch in the sunshine. Where else can you go and find four different types of potato salad to sample? When everyone had been spoiled with multiple visits to the buffet table, we started our contest judging.

Our Airedale Anniversary Cake contest had two brave contestants. Pat Morris did a wonderful Airedale Head and shoulders cake, complete with a fuzzy beard and eyebrows – a great example of skilled grooming with an icing tool! Barbara Durance presented an imaginative dog bowl cake, beautifully iced with wedding cake icing and decorated with dog bones. The cake judge was Mary El Ditner and she happily awarded prizes to both entries.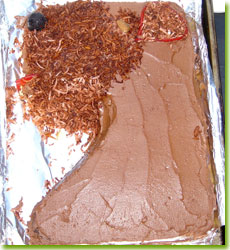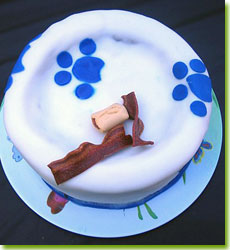 Airedale Anniversary Cake masterpieces!



Our next event was the parade of Airedales wearing their anniversary bonnets. The couturiers for this event really went all out. Karen Joy's baby boy Bissel was our youngest contestant who sported a festive ribboned party hat. Barbara Durance presented Spice and Pepper Rose in co-ordinated hats. Nine dogs strutted their stuff around our hat Judge, Val Adkinson. As all the dogs were beautiful, she awarded all of them prizes!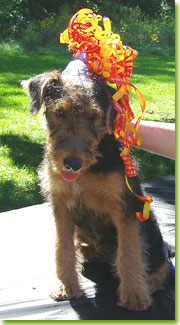 Bissel enjoys Fun Day 2005 in his beribboned hat



Thank you Mary El and Val for being fabulous judges. We will look forward to seeing you on your next judging assignment!

The contests were following by a brief General Meeting and Elaine Zemaitis, Pat Reed and Debbie Klemp were the Club Executives on hand. Also present were the Ontario Director, Roy Aitchison, and past president Ron Ditner. Trophy chairperson Sheila Adkinson and Puppy Referral Person, Kelly Wood were also introduced to the group. When Club business was completed, we were back to the fun and began to announce door prizes.

Tracey Holmes was the lucky winner of the 35th Anniversary Centerpiece, Cameron Gilmour won the 35th Anniversary t-Shirt and our visitor from Ireland, Joan Smillie, won the 35th Anniversary Shopping Bag.

Finally the Airedale Basket was drawn. For the second time, Roy Aitchison won the basket, and since Roy donated the basket, we drew again. The lucky winner was a young man named Jordan. A special thanks to Pat Morris and Ryan Purvis for selling tickets for the basket. They raised $140.00 which goes a long way towards covering the expenses for the day.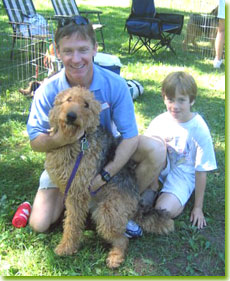 Fun for the whole family!



Once the prizes were all distributed we moved to the Airedale Auction. Wanda and Ron Purvis organized the auction and presented a fabulous table of Airedalia, with items of interest to everyone. Ron put on his "Auctioneer hat" and the bidding began! Thank you Wanda and Ron for a fabulous auction!

After all our money was spent, it was time for puppy games and everyone gathered to enjoy the games hosted by Karen Green and assisted by James Tracey. It was fun to watch the dress up and dress down relay. Special mention should be made to Roy Aitchison, who showed some very imaginative dressing strategies as he dressed his fidgeting Airedale with socks, boxer shorts and a t-shirt for the race. James presented his version of "James says" and when he could not eliminate the last four contestants, everyone got a prize. Musical chairs followed and the game was won by a very speedy Sam Greco.

Puppy owners each received a "35th Anniversary" party favour bag compliments of Iams Dog Food. The bags were fantastic, with Frisbees, squeaky toys, moist dog food and dog food gravy.

For the final event every one grabbed their Frisbee for a group photo to send to Iams, as a thank you for their generous support.
Thanks to everyone for making this day special for owners and dogs alike.

We'll be looking forward to seeing everyone next year!

Photos courtesy of Debbie Klemp, Rachel Purvis and Sarah Kee



What's New | About the ATCC | About the Airedale Terrier | News and Events
Support the ATCC | Gallery | Learn More About … | Contact Us | Home
Photo Credits | Legal/Disclaimers | Privacy | Site Map
Questions? E-mail info@airedaleterrier.ca
Copyright ©2011 Airedale Terrier Club of Canada