About the Airedale Terrier Club of Canada (ATCC)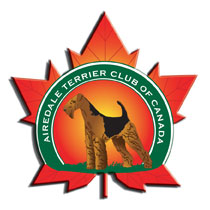 The following are the objectives of the Airedale Terrier Club of Canada (ATCC):
We promote the Airedale Terrier in Canada and provide opportunities for the public to appreciate them in all the areas of their expertise, in conformation, agility, obedience, hunting, therapy, rescue and as best friends.

We promote the conscientious breeding of Airedales, adhering to the Canadian Kennel Club (CKC) standard, and encourage the breeding of noble, healthy, sound Airedales.

We help to protect the breed through the careful placement of puppies, and guard against the exploitation of the Airedale breed.

We provide an avenue for the public to research the history of this breed, and provide information of interest to prospective pet owners, families, breeders and judges.

We encourage membership in the Airedale Terrier Club of Canada and promote the Club's activities and members with the sharing of information on this Web site (more updates are forthcoming) and in the ATCC publication of the newsletter The King's Herald.
Learn more about our organization by clicking on the section headings on the left of this screen. We also welcome your inquiries, and invite you to contact us at:
What's New | About the ATCC | About the Airedale Terrier | News and Events
Support the ATCC | Gallery | Learn More About … | Contact Us | Home
Photo Credits | Legal/Disclaimers | Privacy | Site Map
Questions? E-mail info@airedaleterrier.ca
Copyright ©2011 Airedale Terrier Club of Canada