Stolen Airedale
(London, Ontario area)
May 21, 2008
Indy, a five year old Airedale has been stolen from her owner's farm property in Seaforth, Ontario.
This is the second time Indy has been taken from her home. The first incident left her timid of men and hesitant to trust a stranger. If she is able to get away a second time, she might be even more hesitant. Anyone seeing a female, shaggy Airedale is asked to please attempt to rescue her. She answers to Indy and may be more trusting if she hears her name.
Indy is a mid size female with a shaggy winter coat.
Police are warning pet owners in the London, Ontario area of dog thieves. To date several hundred dogs have been stolen from their homes, some of which are puppies.
Please help us return Indy to her home. For more information, please contact Elaine Zemaitis at 905-632-5599.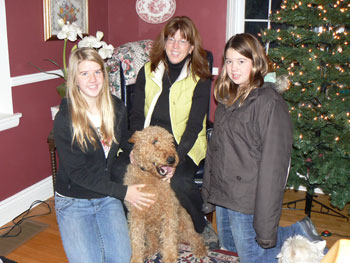 What's New | About the ATCC | About the Airedale Terrier | News and Events
Support the ATCC | Gallery | Learn More About … | Contact Us | Home
Photo Credits | Legal/Disclaimers | Privacy | Site Map
Questions? E-mail info@airedaleterrier.ca
Copyright ©2011 Airedale Terrier Club of Canada