Airedale Terrier Club of Canada (ATCC)
Report on Floating Specialty 2005
by Roy Aitchison

Download the Floating Specialty 2005 results!

In typical Airedale style, the 35th Anniversary year of the Airedale Terrier Club of Canada launched their celebrations with a Floating Specialty held in conjunction with the K-W Kennel Club All Breed Shows on Saturday, May 21 and Sunday, May 22, 2005 in Kitchener, Ontario.

The weekend's first item on the festivities list was the Annual Wine & Cheese Social held at the club's host hotel. This event has been building in popularity over the past few years and the room was filled almost to capacity with ole Airedalers and young pups alike. A tip of the hat to Mary El Ditner for looking after the food trays and that all important special occasion permit. The trays were perfect for the event and nary could a crumb be found at clean up time. Thanks also to Debbie Adkinson for her Terrier spirit in helping to host the event and looking after everyone's needs. To Pat Reed for once again "tapping" into the "ole vineyard" supplier and boosting the "spirits" of one and all. To Wanda and Ron Purvis for setting up the auction table and lending a hand in keeping everyone checking out their bids. To Sheila Adkinson for her always cheerful support and helping hands. To Don and Val Adkinson, "keepers of the banner", for getting our official colours to the event's entrance way. To Elaine, John, Pat and Deb for their Executive circulation and helping to welcome everyone to our social and making all in attendance feel part of the Airedale family. If I have overlooked anyone, please accept my apologies. Finally, I would like to thank each and every person who took the time to come out and help us launch our 35th Anniversary.

At the appointed hour the social closed down and all adjourned to the dining room area for the annual sit-down dinner. Many thanks to Margaret, Ava and Annie for looking after the ticket sales. Once again, our host hotel provided a spread worthy of the "King's" palate and his humble subjects filled their bowls to the brim. This year's dinner was especially important as we introduced a new trophy donated by John and Ellie Voortman to recognize the contribution made by Henk Bennik to our breed.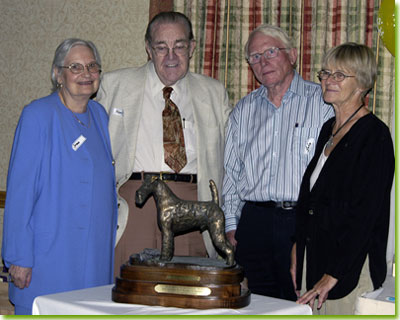 Introduction of the Henk Bennink-Deanridge Trophy for
Best Canadian Dog at the National Specialty
Left to right: Irma and Henk Bennink, John and Ellie Voortman

Our club is pleased to be able to offer to our future exhibitors at our Annual Specialty this beautiful Rick Causudian statue of John and Ellie's famous "Oakrun"s Blue Jay of Paradym". The unveiling was presented by our President, Elaine Zemaitis with the assistance of John and Ellie. In John's presentation, he noted that there are few in attendance whose dog's lines cannot be traced back to some of Henk's breeding programs. He encouraged all in attendance to strive for the best they can for our breed and to continue the foundation work laid by the dedicated people like Henk.

In his acceptance of the honor being made to him, Henk noted how when he first got involved with our breed there was hardly a breeder to be found here in Canada. He complimented those who have followed in his footsteps and encouraged everyone to keep their eye on the goal of breeding to the standard and not letting "fashion" of the day distract them. It was a pleasure and a joy to see these two founding kennels embrace each other and to know their contribution to our bloodlines will be with us forever. Two very classy acts that we can all learn a lesson from, and I hope all take to heart the determination and dedication to an ideal they have sought will ensure the wellbeing of the "King" here in Canada.

The evening's celebrations were rounded off with the Club's annual auction. Once again, it was my pleasure to act as auctioneer and to try to make sure not a single person left the room without having had an opportunity to pick up a unique item. Ron and Wanda's efforts to gather together a fine table was well received and they are to be congratulated for all their hard work. Not sure of the total funds raised, but it was the first time in a long time I missed getting a couple of pieces to add to my collectibles, so you can be assured the bidding was well fought.

Next item on the weekend of events was the Floating Specialty. My thanks and appreciation to Sarah and Dave for hosting the Welcome Wagon once again this year. With Oakrun toasted bagels in one hand, a cup of liquid in the other, the area in front of the hospitality table was often several people deep. I know Sarah and Dave had help a good deal of help from Ryan and Rachel Purvis. What a great couple of kids! Thank you everyone for a fabulous breakfast and welcome to the day!

Puppy Sweepstakes took to the ring prior to the Regular classes being judged. Andrea Easton had a delightful group of youngsters to work with and I am sure if she could, there would have been several who would have been given the nod for Best in Sweeps. To avoid duplication I will list the show results at the end of this report from the pages of the official catalogue. I want to extend an extra hand of appreciation to Andrea for accepting this assignment. It is no short distance from her home to Kitchener and the number of comments overheard at ringside about her patience with the puppies and her watchful eye made the experience enjoyable for the old hands and the "newbies" alike. Job well done, Andrea. (Read our recent profile of Andrea here.)

Dennis Kniola took over the Specialty ring (see his critique below) and once again I will list the results from the catalogue at the end of the report to avoid duplication. Dennis seemed pleased with the exhibitor's presentations and clearly there were again several dogs that caught his eye, but alas, there can only be one final selection. Congratulations to all who attended and to those who won placements that earned one of the many beautiful trophies – your names and those of your dog will now be a part of our breed's show history.



Best in Specialty
Can. Ch. Winsea Paradym
Tairecote Trvlr

Owners: Ron and Mary El Ditner,
and Kelly Wood
Breeder: Helen Arnold




Best of Winners / Best of Opposite
Can. Ch. Ingle Valley Royal
of Glenayr-Aire Spec

Owners: Tim and Peggy Mahar,
and Marian Murray
Breeder: Marian Murray




Winners
Ingle Valley Royal Dolce Mozart

Owners: Sharyn Bachlet and
Marian Murray
Breeder: Marian Murray




Best in Sweepstakes
Ingle Valley Mackenzie
of Glenayr-Mac

Owners: Tim and Peggy Mahar,
and Marian Murray
Breeder: Marian Murray
---
Critique from Floating Specialty Judge Dennis Kniola
Dear Members of the Airedale Terrier Club of Canada,

I would like to take this opportunity to thank each and every one of you for the honour you have bestowed on me. To be asked to judge your floating specialty show was indeed an honour. The gift basket was especially appreciated. Both my wife and I enjoyed being able to spend a few hours with you at the dinner.

Most of you know by now, that I have been a handler here in the States with a specialty in the terrier breeds. Most, however, do not know that we were proud owners of English and Am CH Bengal Sulliston Merry Maid. My time in Airedales started back in early college days when I assisted Bill Thompson. At the time, he was the handler for Reffal Airedales. Over the years I probably finished twenty or twenty-five to their American titles with a number of them also completing their Canadian titles.

I have been asked to write a short critique of the entry. Overall, I found the entry to be comparable with similar size entries in the US. Most dogs were in good jackets and were well presented. I was especially fond of several of the bitches including one that placed last in her class. She would have been an easy winner, had she but used her tail. She was in beautiful condition and of wonderful type. My decision for winner's came down to one bitch being the correct type and yet really impressing me with her movement. If you know me at all, you know that I am the first to say, "don't try to sell soundness if it does not look like the picture I have of the breed". But when you have the opportunity to have wonderful type and soundness, that is the ultimate.

My specials class had a number of deserving entries. My Best of Breed dog again gave me type and soundness in a package. About the only thing I would change is I would have made more of him. Even though he was not as big a dog as I like, there was no doubt in mind that this was a male. There was another dog in the class that I felt needed a little different style to his trim. He was in good condition but there were certain attributes that could have been shown to better advantage with a little different trim.

Again I would like to thank all members for giving me this honour.

Sincerely,
Dennis J Kniola
---
Download the complete Floating Specialty 2005 results

Click the link below to download the results in Acrobat (PDF) format:

atcc-floating-specialty2005.pdf
(~190K)

(Catalogue listings provided courtesy of COLMAR Show Service.)



What's New | About the ATCC | About the Airedale Terrier | News and Events
Support the ATCC | Gallery | Learn More About … | Contact Us | Home
Photo Credits | Legal/Disclaimers | Privacy | Site Map
Questions? E-mail info@airedaleterrier.ca
Copyright ©2011 Airedale Terrier Club of Canada