Learn More About …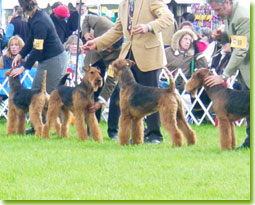 Montgomery 2003 Dog Show
Photo by Marian Murray


In this section of the Web site, we invite you to learn more about Airedales and the Airedale Terrier Club of Canada and associated organizations, through the links and additional resources we've provided. We also welcome your inquiries and suggestions – please send them to info@airedaleterrier.ca. This section also includes helpful guidelines for researching to find the right Airedale breeder for you. Click here to learn more about breeders and breeder referrals.

See also our Resources section for information on books, videos and other materials available when you become an ATCC member.



What's New | About the ATCC | About the Airedale Terrier | News and Events
Support the ATCC | Gallery | Learn More About … | Contact Us | Home
Photo Credits | Legal/Disclaimers | Privacy | Site Map
Questions? E-mail info@airedaleterrier.ca
Copyright ©2011 Airedale Terrier Club of Canada