Airedale Terrier Club of Canada (ATCC)
Report on National Specialty 2005
by Helen Arnold

Download the National Specialty 2005 results
Check out the National Specialty 2005 photo gallery

The 35th Anniversary 2005 National Specialty and Specialty Obedience Trial was a great success. The Winnipeg folks did a terrific job of organizing. Their western hospitality was endless, with lots of food, prizes and giveaways, but most importantly the event promoted a sense of camaraderie among Airedale enthusiasts in a relaxed, friendly setting.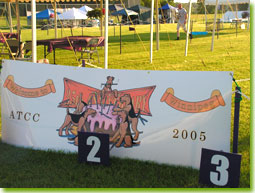 Everywhere you looked, the 35th Anniversary logo was prominent, from the banner on the grooming tent at the show grounds, to the baskets of goodies which greeted us in our hotel rooms. I will take this opportunity to thank Karen Clouston once again for this terrific artwork. It is fun and whimsical and depicts the characters of our dogs so well.
Thursday evening's hospitality hour at the host hotel gave us an opportunity to meet our fellow competitors, the organizers and volunteers, as well as taste a little Manitoba beer!
Friday, August 5, 2005 dawned bright and sunny. Diana Dozier from Edgartown, Massachusetts was our Sweeps judge. Diana has been in Airedales for over 30 years and is a familiar face to many of us who frequent Montgomery. She has judged Sweepstakes classes all over the US as well as in England. We were fortunate to have Diana accept this assignment for our Specialty. She had a fine turnout of 5 juvenile contenders, 1 puppy, and two veterans.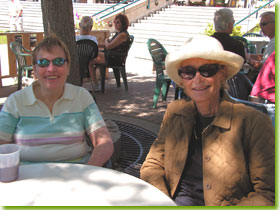 Sweepstakes Judge Diana Dozier (right) being entertained at the Forks by Linda Smith (left)
Photo courtesy of Carol Robson


The Sweeps were followed by the Specialty Conformation show which was judged by Jim Reynolds, who is no stranger to the Airedale ring. Mr. Reynolds has been involved in the sport of dogs since 1956. His kennel has produced a number of BIS winning Scotties and over 30 Canadian and 15 AKC champions. He has judged over 50 national specialties in the US and has officiated at some of the largest and most prestigious shows in many countries – including Airedales at Montgomery County on several occasions. Mr. Reynolds is also the judge elect for BIS at the 2006 Westminster Kennel Club Show. I think he was pleasantly surprised by the quantity and quality of dogs he had to judge. His critique follows this report along with the results of Sweepstakes and Specialty classes. Our Specialty attracted a good entry with dogs coming from Ontario, Alberta, Manitoba as well as Minnesota, Texas and Wisconsin.

The Obedience Specialty was held indoors and judged by Lynda Brown. Lynda hails from Alberta and has been judging obedience for about seven years. And what a great entry we had with six Airedales competing! Thanks to our American friends who traveled to Winnipeg from Minnesota, Wisconsin and Iowa to compete in obedience at our Specialty.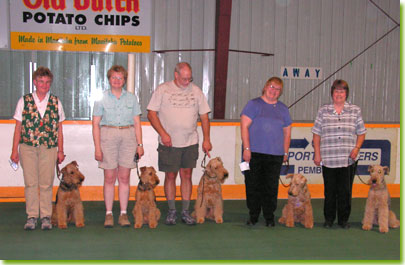 The obedience entry – High in Trial went to Kitty Sweeney
with Eden's Wintergreen from the Novice B class
Photo courtesy of Carol Robson

Putting on a Specialty Show is no easy task. But putting on a Specialty in a city which has only two national club members is daunting. Great kudos go to Carol Robson for pulling it all together. Carol had a group of enthusiastic friends and family to help her. The hospitality was wonderful and one of the highlights of the weekend was the Specialty Luncheon – a Taste of Manitoba – which featured some wonderful ethnic dishes tastefully prepared and presented by Helen Blonski and Sue Dillabough. We were fortunate to be able to piggyback on the Red River Terrier Association's Specialty and most Airedale competitors attended the RRTA dinner where we also had an auction of some fabulous Airedale items. Gracing each Airedale owner's table setting was an Airedale head designed and painted by Susan and Karl Anderson. Thanks to so many of our Club members for supporting the show and sending items to Carol for the Auction.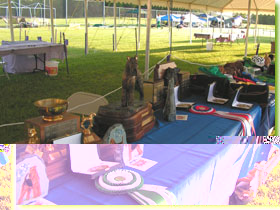 Valerie and Sheila Adkinson did a wonderful job of setting up the trophies. They deserve a big thank you for getting the national trophies to Winnipeg. As well as the perpetual trophies, there were a number of other wonderful prizes, most of which were handmade by Winnipeg artists.
I don't think any dog entered, either in conformation or obedience, went home without a prize of some sort. The trophy table was an awesome sight when set up. We had to keep an eye on Jim Reynolds however, as he was determined to go home with the beautiful new Henk Bennink-Deanridge trophy which John and Ellie Voortman donated. I was the fortunate recipient of that trophy and it is indeed an honor to have my dog's name inscribed on it.
Thank you Carol for such good show management and thanks to your volunteers: Linda Smith, Judy Partridge, Richela Dyck, Helen Blonski, Sue Dillabough, Sandy Orford and daughters Courtney and Beth, Sean Robson, Ruth Smith, Judy Pond, Susan and Karl Anderson from Greenbush, Minnesota, all of whom contributed to the hospitality, prizes and general smooth running of the show. Thanks also to Pam Sheane for producing a wonderful show catalogue, which is definitely a collector's item, and to the advertisers who supported it. Thanks to our National executive for their support of the Winnipeg Specialty.
And a big thanks to all the competitors who traveled from near and far to participate in the 35th Anniversary National Specialty.
---
Critique from Specialty Judge Jim Reynolds
I would like to thank the club for inviting me to do the Airedale Club of Canada's specialty. Breed specialties are always my favorite judging assignments but I must admit that I was in a bit of a quandary as to what kind of entry would appear in Manitoba in August. I was, of course, very pleasantly surprised as I had some excellent dogs in reasonably good jackets for the time of year and with Montgomery on the horizon.

I thought that my Best of Breed dog who was also my Winners Dog – Quantum Texter Stealth Bomber was an outstanding dog. He is truly a "king of terriers" without being overdone. He possesses a lovely head, short back, and proper bone, tail right up on top and in immaculate condition. My Winners bitch and also BOS, Regent's Redcoat Windwalker is a lovely, feminine bitch, good head and expression, a little longer cast but with this comes good movement front and rear. Best Canadian bred Ch. Indus Strike It Rich at Winsea is a very well constructed dog of good type and in good condition. He is a little more streamlined than I would prefer in a male but won on his overall balance and movement.

I am a great fan of imposing perpetual trophies even though they are such a "pain" for clubs to maintain. I have been privileged to award the Airedale Bowl in the U.S. on five occasions and whenever anyone says trophy to me that is the one I think of. Now another has emerged on the scene. The Best Canadian Bred trophy donated by John Voortman, a large bronze of "Jay" done by Ric Chashoudian is nothing short of breathtaking. (See a picture of the trophy here.) I hope that everyone gets to see and appreciate it, and having your name inscribed on it is certainly a goal worth shooting for to any Airedale breeder.

James G. Reynolds
---
Download the complete National Specialty 2005 results

Click the link below to download the results in Acrobat (PDF) format:

atcc-national-specialty2005.pdf
(~25K)

(Catalogue listings provided courtesy of COLMAR Show Service.)



What's New | About the ATCC | About the Airedale Terrier | News and Events
Support the ATCC | Gallery | Learn More About … | Contact Us | Home
Photo Credits | Legal/Disclaimers | Privacy | Site Map
Questions? E-mail info@airedaleterrier.ca
Copyright ©2011 Airedale Terrier Club of Canada