Contacting the Airedale Terrier Club of Canada (ATCC)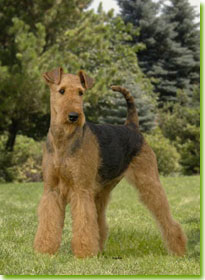 Kali
Photo by Chris Halverston, Dog Ads
We're happy to answer any inquiries you might have about Airedales! Contact us at:
E-mail:
General Inquiries
info@airedaleterrier.ca
Looking for an Airedale puppy?
Get a breeder referral – click here first to learn more!
puppies@airedaleterrier.ca
Library Resources
library@airedaleterrier.ca
Postal Mail:

Carole Kane, ATCC Secretary
10 Park Drive
Miramichi, NB E1N 2Y9
We look forward to hearing from you!
What's New | About the ATCC | About the Airedale Terrier | News and Events
Support the ATCC | Gallery | Learn More About … | Contact Us | Home
Photo Credits | Legal/Disclaimers | Privacy | Site Map
Questions? E-mail info@airedaleterrier.ca
Copyright ©2011 Airedale Terrier Club of Canada