Privacy and Linking Policies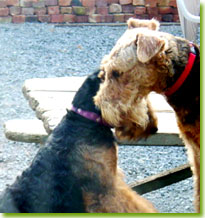 Selena and her mother
share a secret
Photo by Marian Murray
This is the Web site of the Airedale Terrier Club of Canada (ATCC).
Our postal address is:

6604 Frederick
Kilbride, Ontario L0P 1G0

We can be reached via e-mail at info@airedaleterrier.ca or you can reach us by telephone at 905-639-6337.
Privacy
The following privacy policy will assist you in understanding the types of information about visitors to the site which we collect, and the availability of the material posted here for personal or public use.
Please refer to our Legal/Disclaimers page for more information on copyrighted content, acknowledgement of other copyrighted material, and guidelines on usage of material presented here.
The Airedale Terrier Club of Canada (ATCC) Web site only collects identifiable information about site visitors who choose to contact us via e-mail, and that information is only used for communications regarding specific requests in that correspondence. Otherwise, the ATCC does not collect or distribute the e-mail addresses of visitors to our Web site. The ATCC does collect aggregate information on visited Web pages, and information otherwise volunteered by visitors in direct communications with us. The information we collect is used to improve the content of our Web site, and is not shared with other organizations for commercial purposes.
The Airedale Terrier Club of Canada (ATCC) Web site does not set any cookies.
From time to time, we may use visitor information for new, unanticipated uses not previously disclosed in our privacy notice. If our information practices change at some time in the future, we will post the policy changes to this page to notify you of these changes and provide you with the ability to opt out of these new uses. If you are concerned about how your information is used, please check this page periodically.
Links
The ATCC Web site may link to the Web sites of organizations and publications that we believe site visitors will find interesting or useful. These links are based on our knowledge of the site, organization or publication, and requests from groups we are unfamiliar with may not be accepted, due to the time required to exercise due diligence in this area.
The ATCC is not responsible for the privacy practices or the content of linked Web sites. Although the ATCC makes every effort to link only to very high quality, professional organizations, parents are advised to review the material their children are viewing. Children and adults are advised never to disclose personal identifiers such as name, gender, address, location of one's school or other items that could jeopardize their personal safety, and to review the privacy policy posted on any site they visit.
If you feel that this Web site is not following its stated policies, you may contact us at the above addresses or phone number.
What's New | About the ATCC | About the Airedale Terrier | News and Events
Support the ATCC | Gallery | Learn More About … | Contact Us | Home
Photo Credits | Legal/Disclaimers | Privacy | Site Map
Questions? E-mail info@airedaleterrier.ca
Copyright ©2011 Airedale Terrier Club of Canada