About the Airedale Terrier
Few breeds manage to be as stylish, noble, protective and goofy as an Airedale. Once you've owned a good one, the only thing better is two or three more.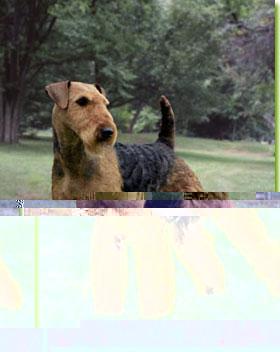 Starr (Ch Hollytroy Tiger`s Star Brite)
Photo by Dog Ads
The modern Airedale is confident, unafraid of people and other dogs, but not a combative breed, as suggested by the adage, "The Airedale doesn't start fights, he finishes them." While intelligent Airedale puppies may seem tentative or cautious, the breed should never be timid or spooky.
The average dog owner may or may not be impressed with the beauty of the dog; more important for his purpose, the family dog must have devotion, brains, reliability, stability, trainability, and a sense of humour, plus the extra talents he may need for the multitudinous things the breed does well.
In addition to being keen hunters and steadfast family dogs, the Airedale is a comedian. The breed is playful, fun loving, and active. They need a certain amount of exercise and attention, and owners with a good sense of humour appreciate them. Airedales make excellent companions for children, as long as both the children and the dog have a parental figure to establish firm rules, given total freedom the Airedale and his child can get into lots of trouble.
We have provided the About the Airedale Terrier section of this Web site to give you a sense of the history of the breed, to offer a snapshot of the many roles an Airedale Terrier can play … and to give you a good idea if an Airedale Terrier might be right for you!
What's New | About the ATCC | About the Airedale Terrier | News and Events
Support the ATCC | Gallery | Learn More About … | Contact Us | Home
Photo Credits | Legal/Disclaimers | Privacy | Site Map
Questions? E-mail info@airedaleterrier.ca
Copyright ©2011 Airedale Terrier Club of Canada