Airedale Terrier Club of Canada (ATCC)
Membership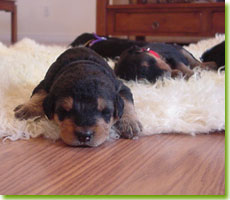 Tired WharfeAire puppies
Photo by Wanda Purvis
The Airedale Terrier Club of Canada welcomes membership to all persons who subscribe to the ATCC's purposes and objectives.
To learn more about how to apply for an ATCC membership, including the benefits of membership, check out our Join the ATCC page.
To learn more about other ATCC members, take a look at member profiles in our Learn More About … ATCC Members section.
What's New | About the ATCC | About the Airedale Terrier | News and Events
Support the ATCC | Gallery | Learn More About … | Contact Us | Home
Photo Credits | Legal/Disclaimers | Privacy | Site Map
Questions? E-mail info@airedaleterrier.ca
Copyright ©2011 Airedale Terrier Club of Canada