Learn More About …
ATCC Members
Check out this ATCC Blast from the Past!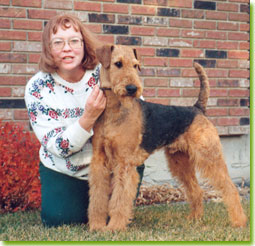 Andrea Easton and Dundee
Photo courtesy of Andrea Easton
Airedale Terrier Club of Canada members come from different backgrounds and walks of life, bring a wide variety of skills, experiences and perspectives to the ATCC, take part in a broad range of activities to further the ATCC's goals … and, of course, they all share an abiding passion for Airedales!
In the months to come, we plan to showcase the stories and accomplishments of individual ATCC members in this section of our Web site. If you would like to suggest someone, or would like to volunteer to write a profile, please contact us at info@airedaleterrier.ca.
We also have profiles of the people who are part of the ATCC Executive Council and related positions. You can read their stories here.
Get to know more about these ATCC members and their lives with Airedales:
What's New | About the ATCC | About the Airedale Terrier | News and Events
Support the ATCC | Gallery | Learn More About … | Contact Us | Home
Photo Credits | Legal/Disclaimers | Privacy | Site Map
Questions? E-mail info@airedaleterrier.ca
Copyright ©2011 Airedale Terrier Club of Canada