Donate to the Airedale Terrier Club of Canada (ATCC)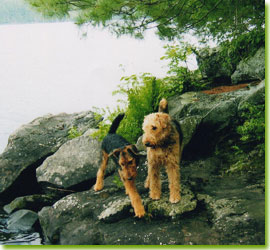 Satchel (Skyecroft A Love Supreme) and Hadley (Airemyste Roulette)
Photo by Vicki Ziegler
Loving an Airedale and being loved by an Airedale often results in a total passion for the breed. While many Club members support Club functions and initiatives with their time and talent, there are other ways of supporting the Club.
Members are encouraged to support the Trophy fund, by adding a donation to their annual membership fee. These donations contribute to the beautiful ATCC Medallions presented at ATCC Boosters, Floating Specialties and National Specialties and for the purchase of rosettes awarded to the class placements.
In addition, Club members periodically feel inclined to donate a Special Trophy, sometimes in recognition of a Club Member, a Founding Kennel or a dearly beloved Airedale. If this is of interest to you, please contact the Club Executive and we will be happy to discuss this with you.
Some of us have special talents and donate Airedale items to our Annual Auctions or baked goods to our hospitality functions. One special family feeds our members their bakeries' delicacies every spring at our Kitchener weekend! Our members are as versatile as their Airedales, so we are always delighted to benefit from their generosity.
Airedale Rescue is another wonderful option and desperately appreciated. We encourage members to consider donating to Airedale Rescue. In Canada, we support AireCanada Airedale Rescue an independent, self funded organization who rescue, foster and place Airedale Terriers. To find out how you can help them, please contact them directly at www.airecanada.com.
What's New | About the ATCC | About the Airedale Terrier | News and Events
Support the ATCC | Gallery | Learn More About … | Contact Us | Home
Photo Credits | Legal/Disclaimers | Privacy | Site Map
Questions? E-mail info@airedaleterrier.ca
Copyright ©2011 Airedale Terrier Club of Canada