ATCC Member Profile
Andrea Easton
Puppy and Veteran Sweepstakes Exhibitors will have an opportunity to meet Andrea Easton in person, as she judges our Floating Specialty Sweepstakes in Kitchener. Please give her a warm welcome.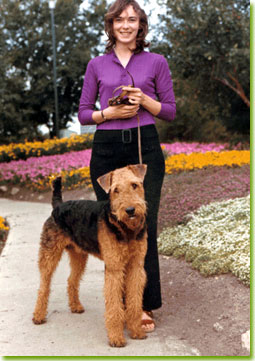 Andrea Easton and Tanner, 1972
Photo courtesy of Andrea Easton
How did you get into Airedales?
My first Airedale changed my life and awoke a passion for this breed that is still with me today. I was living in Regina in l971, and researched the terrier breeds at the library before deciding that the Airedale sounded just right for me. I had never seen a real one until Tanner arrived by plane from Vancouver. Out of the crate came a mostly black furry little fellow, composed and brave, with intelligent dark eyes staring straight at me. Over the next months and years, I taught myself how to strip his coat by studying Gladys Brown Edwards" The Complete Airedale (1971 edition). Tanner stood patiently on a bench through many hours of flying hair. My set of three Pearson knives cost $27 and they are still in my grooming tackbox. I trained him through Utility obedience, and he was a High in Trial competitor at the CD level, as well as a good tracker and a devoted companion.
I entered the conformation game with a bitch I bought from Maggie Hochstetler, Ch Golliwog's Brigit, out of her Am Can Ch. Golliwog's Gidgit. Josie and I had our first litter in l976 by Am Can Ch Eden's Sal Sorbus, and I finished championships on two males from that litter. She was a small bitch but had great character and was a deadly squirrel hunter when she went to live with my Dad.
In l979 I was forced to part with my Airedales, two of whom went to live with my Dad, so they were not entirely gone from my life. Twelve years later, Don persuaded me to get back into Airedales again, and together we bought Ch Brae's Prime Crime, CD. Under the guidance of Don, Bailey played Sandy in a professional production of "Annie". In June of l993, I visited Alvira Capone in Pennsylvania and brought home our foundation bitch, Ch Walnut Ridge Chutney. She has recently passed away, leaving us with tearful hearts but a rich legacy of breeding and companion dogs, who are enjoyed so much by many people. Her beautiful black, then later copper jacket and her intelligent, regal demeanor personify this breed for me.
I feel that I have just scratched the surface in this very brief history.
How long have you been in Airedales?
I started life with my first Airedale in l971 and had three of them until l980. Don and I got our first one together in l991, and we presently have six in the house: our two stud dogs, Willie and Keegan, and our retired boy, Dundee, as well as three girls, Robin and her daughters Jaimie and Clara. They keep us on our toes, to say the least!
What is my kennel name Cooleamber?
Cooleamber was the family home of my first husband's mother in County Longford, Ireland. It was a cattle and horse farm in the lush green interior of this beautiful island and the family were known for their point-to-point steeplechase stock. It was Bernadette Easton who found and purchased my first Airedale, Tanner, for me.
What activities do you enjoy with your Airedales?
All six of our Airedales live in the house with us and walking them is no longer possible for me, so we have developed some backyard games, ours and theirs, to keep them active and fit. Most of them like to retrieve or play "keep away" with each other, and I usually have two or three going at a time. It's a good workout for all of us. I try to spend some one-on-one time each day too, which is a challenge on the days I work.
Grooming them is a relaxing and being together time for me. I keep all of them hand stripped throughout their lives. Their coats always look natural and I find them easy to look after – well worth the initial work.
Together Don and I do puppy and good citizen classes, and also some basic obedience or conformation when time allows. For many years we have organized a spring and a fall walk for Calgary Airedale owners. These are always fun days which give people a chance to meet other Airedalers, especially the newcomers to this breed. For the past seven years, I have compiled an Airedale calendar from my own photos and ones sent to me, as a fundraiser for our local association.
Car rides are a big treat for our dogs, whether it is to the post office or five days on the road to Montgomery. Rowing on the lake by our family cabin with a couple of Airedales on board scanning the water for trout and loons is one of my favorite escape experiences.
What is your most wonderful Airedale memory?
There are so many memorable times over the years, but I will try to touch on a few that come immediately to mind.
For me, it is whelping each litter and the special relationship I have with my girl during this time as we bring the next generation of Airedales into our lives, that is unlike anything else that we share with our dogs. It is a journey of apprehension, patience, and then the joy that brings to fruition our dreams and plans for the present and the future.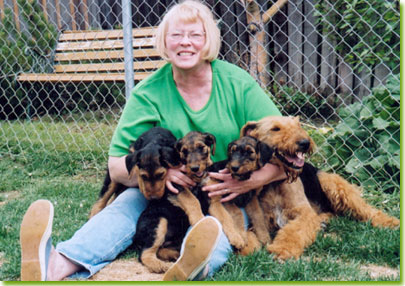 Andrea Easton and her lovely Cooleamber Airedales
Photo courtesy of Andrea Easton
Montgomery 1994 was the first time Don and I had taken in this spectacular Airedale event. We have returned several times to exhibit our dogs, after driving for days in our packed van: dogs, crates, gear and all. The first time especially, I was in awe of the grooming on these dogs, the sheer number of entries and all the people who I had heard about standing right there at ringside. I always take lots of candid pictures to study and enlarge later as part of my ongoing learning. This specialty is a must for any serious breeder/exhibitor.
Three times winning the Best Dam and Progeny in the All Terrier Specialty with Ch Walnut Ridge Chutney in 1996, 1997, and 1999 was very gratifying. I was so proud of her! All her championed offspring were sons, most of whom earned Canadian and American championship points at specialties, and some later completed obedience titles as well. Until recently, we have put the Canadian championships on our dogs ourselves, and I will continue to do all the grooming for our conformation entries for as long as I can.
Ongoing small successes with my breeding program and happy stories about the get of my boys, Dundee, Willie, Tedder and Keegan, are rewards in themselves. When I began with Tanner, I had no idea of the adventure that he had launched me on.
Do you have any advice for newcomers?
I will only touch on two suggestions, but both are important, I think.
First, having a mentor, though not necessarily someone who is in your breed, can make all the difference to one's experience. The question is how to find the person who you connect with in a meaningful way? It is easy to get discouraged and fall by the wayside. I was very fortunate to work as a kennel girl for Stella Newby of Worrindale Kennels in the late 1970s. Her wires and cairns were legendary. She groomed and exhibited all the terrier breeds with a level of professionalism seldom seen today, and she was always willing to share her knowledge with novice and seasoned dog lovers alike. She introduced me to managing stud dogs and brood bitches, assessing and grading litters, and also grooming and presentation for the show ring. Others, too, have helped me along the way, but Stella will always be my role model of the dog world.
My other comment to the newcomer is that very few of us are capable of doing well in all areas of the lives of dogs. Why do many people think that they have to breed for themselves, the kind of dog they want? If competitive agility trials are your primary interest, for example, why not buy a dog from a reputable breeder whose Airedales are physically very sound and enjoy working? Breeding dogs requires tireless dedication, heartwrenching decisions and an ongoing study of pedigrees, genetics and health issues, to name but a few considerations. Honest evaluation of your own stock and that of other breeders takes fortitude and conviction. When I look at Chutney's great granddaughter, Clara, I am looking at the small piece I have contributed to the past and the future of our breed. In between lies a great deal of hard work and a bit of the Irish luck.
Andrea Easton
Cooleamber Airedales
February 2005
What's New | About the ATCC | About the Airedale Terrier | News and Events
Support the ATCC | Gallery | Learn More About … | Contact Us | Home
Photo Credits | Legal/Disclaimers | Privacy | Site Map
Questions? E-mail info@airedaleterrier.ca
Copyright ©2011 Airedale Terrier Club of Canada