Learn More About …
Canine Health and Wellbeing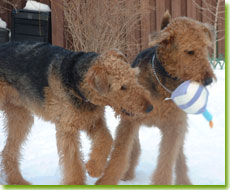 Skyecroft puppies
Photo courtesy of Elaine Zemaitis
Loving and caring for an Airedale often means that you ponder Airedale health issues. Sometimes these questions can be answered by an experienced Airedaler or breeder and sometimes these questions need to be addressed by a veterinarian. The purpose of this section of the ATCC Web site is not to replace your veterinarian, but rather to share information and identify Airedale health issues.
Here are the stories and articles we've prepared for this section:
Aquatic Airedales
We all know the many advantages of swimming. Nearly every muscle in the body benefits, without putting stress on the joints. One's cardiovascular fitness, muscle tone and endurance level also improves with swimming. It also helps with weight control and above all, it is an extremely enjoyable form of exercise.

If this type of exercise is good for humans, then it certainly must be beneficial for dogs as well. Karen Green competes in agility with her Airedales and finds that her biggest challenge is how to keep them in condition during the winter months. Read how Karen gets her canine athletes in shape with swimming exercises at a special canine pool.

Raisin and Grape Poisoning
Carole Kane is a health care professional and the Airedale Terrier Club of Canada's Atlantic Director. We have asked Carol to host this Web site section and to publish items that we think may be of interest to Airedale owners. (For more information about Carole, read her profile here.)

While we would like all our stories to have happy endings, we all know life isn't always like that. Carole's first article is her own story. She writes about an unhappy experience that resulted after a young dog was fed raisins. While many Airedales eat raisins with great glee and suffer no side affects, Carole's story reminds us that there are always exceptions.

Elder Airedale Care
This story is from Kelly Wood, our puppy referral person and accomplished Airedaler and breeder. (For more information about Kelly, read her profile here.)

Kelly tells us about her experience with her elderly Airedale, and it definitely has a happy ending. It is a wonderful reminder to not to always expect the worse with a senior citizen pet.
So whether the story is a happy one, or a sad or cautionary one, they will all give "paws for thought". We will try to include information for puppy owners, adult dogs and senior citizen Airedales. We will also provide wonderful links to help you connect to valuable sources that will provide additional information.
If you have an Airedale story that you think our readers would appreciate, please send it to info@airedaleterrier.ca
What's New | About the ATCC | About the Airedale Terrier | News and Events
Support the ATCC | Gallery | Learn More About … | Contact Us | Home
Photo Credits | Legal/Disclaimers | Privacy | Site Map
Questions? E-mail info@airedaleterrier.ca
Copyright ©2011 Airedale Terrier Club of Canada