Links to Other Airedale and Related Resources
We invite you to link to the ATCC Web Site
The following are links to Airedale and canine-related associations, organizations, and interest groups, as well as resources that we consider credible and that we think you will find useful.
Note: All links to external Web sites open in a new browser window.
We welcome suggestions for additions to this page. Please send your link requests to info@airedaleterrier.ca.
The latest additions to our links collection appear in bold.
Airedale Breed Organizations
Australia
United Kingdom
United States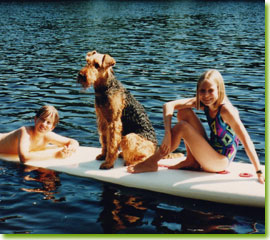 Dino and friends
Photo courtesy of the Von Bredow family
Airedale Rescue Organizations
Airedale Resources
General Canine Organizations and Shows
General Canine Resources
What's New | About the ATCC | About the Airedale Terrier | News and Events
Support the ATCC | Gallery | Learn More About … | Contact Us | Home
Photo Credits | Legal/Disclaimers | Privacy | Site Map
Questions? E-mail info@airedaleterrier.ca
Copyright ©2011 Airedale Terrier Club of Canada