Airedale Terrier Club of Canada (ATCC)
Support Positions
Jan Arsenault
2nd Vice President, Specialty Show Chair and Puppy Referrals
Return to ATCC Executive Council page.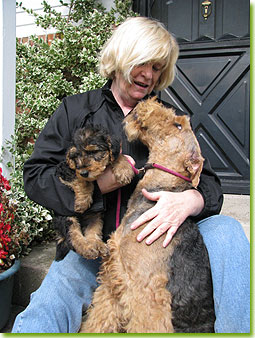 Jan Arsenault


Hi, my name is Jan Arsenault and I am the 2nd Vice President, the Show Chair for the 2010 National Floater and the ATCC Puppy Referral Coordinator.
My husband Ric and I have been owned by an Airedale since 1975 when we got our first Airedale Janie from Marian Ruggles of D'Angleterre Airedales. Janie was your typical "jack of all trades" Airedale. We did conformation, obedience, tracking and when my first son was born in 1977, she became his buddy, protector and partner in crime. We had our first litter of Airedales in 1977, and had a couple more litters and then took a break when my second son was born.
In 1985 we bought a dog from Ron Ditner, Tanzi, who became a Canadian Champion and an obedience CD, Ch. Tairecote Trafford's. Tanzi produced three Am. Can. Champions, one of which was Am. Can. Ch. Westchester Traymar Warlock (Bandit) who is the sire of over 20 champions in Canada and the States. Bandit and his daughter Am. Can. Ch. Westchester Adorable Devil have each received the ATCC Award of Merit for producing Canadian Champion offspring.
All our Airedales that we have today go back to Tanzi and we have bred or owned over 20 champions and obedience titled Airedales. Currently I have five Airedales, and my son and daughter-in-law are following in the family tradition and are the owners of 10-month-old Westchester Pick Your Poison (Harriet).
Besides being a member of the ATCC since 1976, I have been involved in the Seaway Kennel Club, where I've held many positions on the executive and have been Show Chairman for the past ten years.
Return to ATCC Executive Council page.
What's New | About the ATCC | About the Airedale Terrier | News and Events
Support the ATCC | Gallery | Learn More About … | Contact Us | Home
Photo Credits | Legal/Disclaimers | Privacy | Site Map
Questions? E-mail info@airedaleterrier.ca
Copyright ©2011 Airedale Terrier Club of Canada