The Many Faces of the Airedale Terrier
Agility Training and Titles for Your Airedale
Return to the Many Faces of the Airedale Terrier page.
by Karen Green
Agility is a fun and exciting sport that can be done with both younger and older dogs and especially with Airedales. Airedales are energetic, extremely clever and need to establish a bond with their owners.
Agility is a means of achieving this. It combines training, teamwork and fitness. Both handler and dog must learn how to negotiate obstacles, run efficient courses and most of all learn how to trust one another. This sport certainly promotes a strong bond between dog and handler.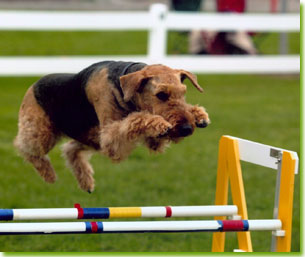 Agility Champion Sage (Ch Skyecroft Dancing Sage Tiger)
AKC Novice Agility, Novice Jumper, Open Agility
CKC Novice Agility (with 3 1st place Perfect Scores)
NADAC Novice Agility, Novice Jumper, Open Agility
AAC Agility Dog of Canada Number 1 in Terrier Group 1998 Novice
Photo by Karen Green
Ideally, training should start as early as possible. I like to start a puppy at approximately 10 weeks old beginning with very simple exercises. Keep the practice time short, use a clicker and make it lots of fun. Puppy classes, attention classes and basic obedience should be part of the puppy's experience. Off-lead control and strong recalls are a must.
The agility course is comprised of about 15-20 obstacles. The judge will set the course and the time limit for running it. This course is different at each trial. The dog and handler must complete the course in a certain amount of time to be determined by the judge at each event.
The following are some examples of standard equipment used in most agility trials:
A-frame
Dog walk
Teeter
Weave poles
Bar and spread jumps
Tunnels and chutes
Table and tire.
A dog must learn how to use each of the pieces of equipment. As well, the dog must learn the commands and signals associated with each piece of equipment. The most difficult and time consuming are the weave poles. The dog, then, must learn combinations of the above equipment. I find with my dogs it usually take about two to three years to get a dog ready for trials.
There are many associations that offer agility trials. The rules can vary from one association to another. Two organizations in Canada that sanction agility trials are:
In the U.S., the following offer agility trials:
In both Canada and the United States, the following organization offers trials:
Each organization has its own set of rules, and and requires that a dog be registered with them. Each organization will offer standard courses, and some will offer jumpers, games and team courses.
Information can be obtained from the Web sites for each organization. Airedales are a clever, fun-loving athletic breed and agility provides an exceptional outlet for these charactaristics.
Return to the Many Faces of the Airedale Terrier page.
What's New | About the ATCC | About the Airedale Terrier | News and Events
Support the ATCC | Gallery | Learn More About … | Contact Us | Home
Photo Credits | Legal/Disclaimers | Privacy | Site Map
Questions? E-mail info@airedaleterrier.ca
Copyright ©2011 Airedale Terrier Club of Canada