ATCC Member Profile
Ron Ditner
Ron Ditner is a Past ATCC President, Show Chairman, Fun Match Organizer and currently volunteers as the ATCC Trophy Case Designer and Constitutional Advisor.
My Life With Airedales



Ron Ditner and Stoneridge Tairecote
(at Barrie Specialty, 1983)
Photo courtesy of Ron Ditner

Having been in Airedales for some twenty-nine years, I now look back and examine the broad panorama of people, places and dogs. If you were to ask me what memorable moment is fixed in my memory, I would say many. Examples of these would be the first time I looked at eleven shiny wet newborn bundles, or some of the hard fought wins, it could be a line of beautiful Airedales being presented to you for examination. Equally it might be the camaraderie experienced while grooming to go into the ring, a shared meal at a pub off-site after the judging, or even a rewarding discussion on the merits of some of the dogs you have known.

However, I believe I would consider the moment of greatest portent would have to be the decision to join the ATCC. This opened the door to getting to know at least ten dogs. It gained you a legion of mentors, always eager to share their experience. You joined a society of devotees who met at the most unlikely sites at the most uncivil time of the day, many times in inclement weather. The thread that bound all of this together was our shared interest – the Airedale.

One of the most interesting holidays afforded us was by way of an invitation to be the guest of the Hanks in Kent, England, the home of their Perrancourt Kennel. We selected the time of the year when we could attend at least three certificate shows. Paul took us to six or seven well known kennels, which led to sharing several Club functions, the most unique of which was a barge party hosted by the South of England Club.

I have purchased dogs from Scotland, England, USA, and breeders here in Canada. The breeders I have dealt with were George Wright in Scotland, Paul and Dot Hanks in England, Janet Framke in the USA, Henk Bennik, Ron Hobkirk, Ron Madeleine Worthington, and Bill Greenwood in Canada. In other cases, we took a female for breeding to Bobby Brennan's in Boston and sent one to Peter Green, as well as breeding to Canadian males.

Mary El and I have been ATCC members since 1975 and were members of The KW Kennel Club, an all-breed club in Kitchener. Mary El has held a dozen or more volunteer positions in the ATCC, while I have only held a few. We held a number of positions on the Show Committee executive of the KW Club including Show Chairman. I undertook the qualifications to become a Judge. After fulfilling the required preliminaries, I managed to be licensed to judge the first half of Group Four. However, I lost interest in going further and resigned.

With the first dog we showed, we involved our youngest daughter as her handler for most of her show career. Two of our daughters kept two of our dogs as pets after completion of their showing. Probably the most enjoyable event was one that I shared with my old male, Ch. Tairecote TNT CD "Ten". It was to try to educate him in the tenets of Obedience when he was seven years old. It took a fair amount of endurance on both our parts, but we achieved a CD. No matter how I encouraged him to speed his actions, he maintained a deliberate pace. One of the judges performing her duties said to me, quietly, "There is an advantage to working a senior citizen!" Obviously, Ten and I were kindred spirits.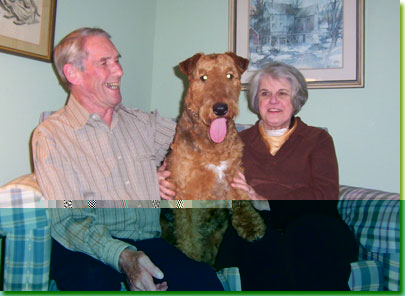 Ron and Mary El Ditner with Fionn
Photo courtesy of Kelly Wood
Another facet of being involved in showing and breeding is to co-own a dog with another Airedale fancier. I have experienced this on two separate occasions. The first was with Ron Hobkirk where we bought a Scottish female through Knut Eckberg. She lived with me, Ron showed and finish groomed her, allowing me to observe his intense attention to detail. The second is Fionn, the male that Kelly Wood co-owns with me. Once again, he lives with Mary El and me, and Kelly grooms and shows him. The result is self explanatory – he is groomed to perfection and is performing magnificently for her. With her experience, she is able to pay more attention to planning his career than I ever could at this stage in my life. This in itself offers rewards in sharing knowledge and skills that are unique to each individual.
In our experience of having lived with a good number of "the King of Terriers" there is no other breed that we would consider. However, for any prospective owner, I would recommend that you learn as much as you are able about the Airedale. He is not a breed for just anyone, and if you listen and observe the dogs of an experienced owner/breeder, you too can enjoy the experience of an Airedale owner, which will be unlike any other.
Ron and Mary El Ditner
What's New | About the ATCC | About the Airedale Terrier | News and Events
Support the ATCC | Gallery | Learn More About … | Contact Us | Home
Photo Credits | Legal/Disclaimers | Privacy | Site Map
Questions? E-mail info@airedaleterrier.ca
Copyright ©2011 Airedale Terrier Club of Canada