Airedale Terrier Club of Canada (ATCC)
National Specialty and Sweepstakes 2006 Slideshow


Sweepstakes – Judged by ATCC Member Lee Steeves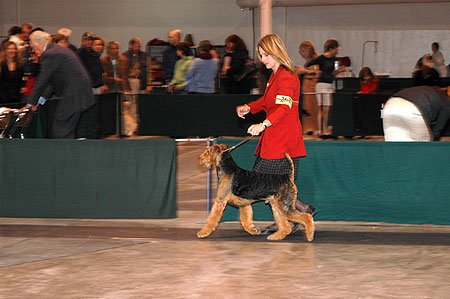 #267 Junior Puppy Dog-Tanyetta Paradym Scotch N Soda,
"Gus" bred/owned by John Ross and Kelly Wood


Back to the opening slideshow page.
Back to the opening gallery page.
The ATCC National Specialty 2006 was held in Kitchener, Ontario on the weekend of May 21, 2006. Relive the National Specialty and Specialty Sweepstakes via the following slideshow. (Click the next and previous buttons above to advance through the pictures.) Photos are all courtesy of Bruce Struthers. In addition to this slideshow, enjoy our National Specialty 2006 report.
What's New | About the ATCC | About the Airedale Terrier | News and Events
Support the ATCC | Gallery | Learn More About … | Contact Us | Home
Photo Credits | Legal/Disclaimers | Privacy | Site Map
Questions? E-mail info@airedaleterrier.ca
Copyright ©2011 Airedale Terrier Club of Canada