Airedale Terrier Club of Canada (ATCC)
41st Annual Ontario Fun Day
Sunday, September 18, 2011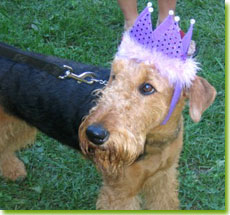 Fun Day brings out all the party girls!



You are invited to the Airedale Terrier Club of Canada's Ontario Fun Day!
Sunday, September 18th, 2011
Hidden Valley Park, Burlington, Ontario
Click here for directions.
The fun starts at 11:00 am!

Please bring your leashed Airedale to join in the fun, including:
Fun games and entertainment
Airedalia auction
Potluck BBQ lunch
Raffle
ATCC General Meeting
Prize for the best dressed Airedale
Please bring your own lawn chairs.
Volunteers would be greatly appreciated. If you are able to volunteer, please contact Peter Phillips at magwitch@airedale.ca.
Download the Ontario Fun Day 2011 poster:
(~175K)
Directions
What's New | About the ATCC | About the Airedale Terrier | News and Events
Support the ATCC | Gallery | Learn More About … | Contact Us | Home
Photo Credits | Legal/Disclaimers | Privacy | Site Map
Questions? E-mail info@airedaleterrier.ca
Copyright ©2011 Airedale Terrier Club of Canada