Airedale Terrier Club of Canada (ATCC)
Executive Council
Pat Reed
Past President
Return to ATCC Executive Council page.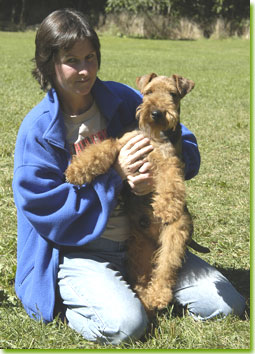 Pat Reed
Photo by John Ross
My name is Pat Reed and I am a Past President. Prior to this position I was the Club Secretary, President, 1st Vice President and 2nd Vice President.
We bought our first Airedale from Pip Smith and Wendy Craig. The following year we were fortunate to have the opportunity to buy Asta (our foundation bitch) from Dave and Ester O'Connor. We lost her in 2000, but she was the most wonderful Airedale and sold many puppies for us. We then proceeded to show and breed. We currently have six Airedales: Earle our Scot son, from our first litter - he is 13 1/2; Devon - 8 yrs, 2nd generation our breeding and a Brandit daughter; Shelby - almost 4 yrs, our Helga/Felix daughter given to us by Margo Dupre; Quinn - almost 4 yrs, 3rd generation our breeding and an Abe granddaughter; and Merle and Griffin, who are 14 months out of Earle and Shelby - hopefully you will see them in the ring in 2005. We also have two Welsh Terriers – Willow who is 4 years and Spike who is 20 months.
I show in both Canada and the US – but mainly in the US. I have done some obedience work but there are only so many hours in a week!
I am also an active member of the Burlington Kennel and Obedience Club and a director for Terrier Breeders Association of Canada.
Return to ATCC Executive Council page.
What's New | About the ATCC | About the Airedale Terrier | News and Events
Support the ATCC | Gallery | Learn More About … | Contact Us | Home
Photo Credits | Legal/Disclaimers | Privacy | Site Map
Questions? E-mail info@airedaleterrier.ca
Copyright ©2011 Airedale Terrier Club of Canada