Airedale Terrier Club of Canada (ATCC)
Executive Council
Helen Arnold
Past-President, Treasurer
Return to ATCC Executive Council page.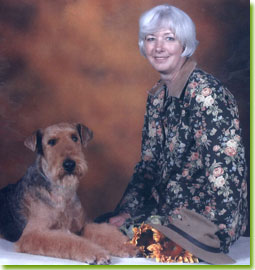 Helen Arnold
I have been an Airedale enthusiast for many years. My love for the breed started many years ago with my sister's two 'dales. They were wonderful dogs with great personalities. In 1994, I purchased my first Airedale, Winston, as a 9-week-old puppy. Winston was an incredible character and clown; I could write a book on his antics. I was fortunate to meet an excellent groomer and terrier breeder, Darle Heck, who encouraged me to take up showing and has continued to be my mentor and close friend.
My first show dog and the foundation of my breeding program was Ch Epoch's Timeless Odyssey, CD (Chelsea) who came from Doug and Aletta Moore in Minnesota. I had great success with Chelsea and was fortunate to have started with such a good bitch. She had a wonderful personality which has been passed on to her progeny. I have been very successful with my dogs in the show ring in both the US and Canada. The pick bitch from Chelsea's first litter, LaraJane (Am/Can Ch Winsea's Calypso), was Winners Bitch at Montgomery in 2000. Chelsea and her progeny have produced many other winners.
I share my home with a few Airedales: Ritchie (Am/Can Ch Indus Strike it Rich at Winsea), Sadie (Am/Can Ch Winsea's Strike a Pose), Penny (Am/Can Ch Fyrebrick's Plenty O Toole), Trixie (Can Ch Winsea's Magic Trick) and Sizzle (Winsea's All Fyred Up).
I am currently a President of the ATCC and editor of the newsletter, The King's Herald. I am active in our local Airedale group in Calgary, organizing fun days, boosters, specialty shows and other activities of interest to the group. I am also a member of the Airedale Terrier Club of America, the All Terrier Club of Alberta and the Calgary Association of Dog Fanciers.
Return to ATCC Executive Council page.
What's New | About the ATCC | About the Airedale Terrier | News and Events
Support the ATCC | Gallery | Learn More About … | Contact Us | Home
Photo Credits | Legal/Disclaimers | Privacy | Site Map
Questions? E-mail info@airedaleterrier.ca
Copyright ©2011 Airedale Terrier Club of Canada