Airedale Terrier Club of Canada (ATCC)
Executive Council
Dawn Tufts
President
Return to ATCC Executive Council page.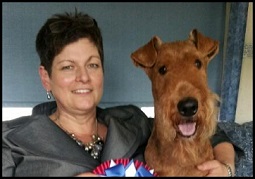 Dawn Tufts
I am honored to have been asked to take on this role within the ATCC. There are big footsteps to follow, but with the wealth of knowledge and experience on the executive, we will continue to grow and promote our wonderful Breed.
I've loved animals/dogs since I can remember, growing up we had Miniature Poodles as pets. My first exposure to Airedales, was when I was house / dog sitting many years ago, and next door was an Airedale, this is when I fell in love with them and their sense of humour.

We currently live with four Airedales, we acquired our first one in 2004 (Lucas - Ch. Regalridge Dealer's Choice, RN, CGN), whom initially was to be a companion only, and then I wanted to learn how to groom him. In hindsight, this was one of life's defining moments, as it was the result of learning to groom that led to trying my hand at Showing.

As I also had horses growing up, which I'd shown, and thought that showing dogs could not be that much different, well at least less chances of falling. Due to the guidance, support and patience of everyone at Regalridge, learned to groom and begin on the path of showing dogs.
We later acquired Lexi (Ch. Regalridge Hot Toddy, CGN), whom to this day am not entirely sure if we showed or just catered to during her show career, she is a very opinionated girl. But was very patient with a few juniors in the Jr. ring whom were learning to show. Then Lexie gave us Logan (Am/Cdn MBIS Regalridge Sound Investment, CGN), whom loves the ring, and being a natural show off garnered many awards during his career. He was the # 1 Airedale from 2009 to 2012, and among the top winning Cdn. Airedale's in breed history, with 21 BIS's.
We are now looking forward to his off spring's future, as Grace (Ch. Regalridge Remember Me) begins her show career, as well as his offspring in the US.
In addition to President of the ATCC, I am also the President of the Atlantic Terrier Association (ATA) for the last 5 years (held other executive positions prior within the ATA ). As well, am a member of Halifax Kennel Club (all-breed), where currently I'm the Education Director. In my spare time, I hold various positions on the respective Show Committee's.
Regardless if your Airedale is a companion or you are participating in the Conformation, Obedience, Rally-O, Agility or other dog sports, encourage everyone to try, as you may be surprised where it will take you, as well as the wonderful friendships you will develop with fellow Airedale enthusiasts.

Wishing everyone the enjoyment of their Airedales and the sense of humour as only they can bring to Life's adventures.
Return to ATCC Executive Council page.
What's New | About the ATCC | About the Airedale Terrier | News and Events
Support the ATCC | Gallery | Learn More About … | Contact Us | Home
Photo Credits | Legal/Disclaimers | Privacy | Site Map
Questions? E-mail info@airedaleterrier.ca
Copyright ©2011 Airedale Terrier Club of Canada